The Story
My grandfather was a Baptist minister, a pillar for our family and community. He taught me right from wrong, and the importance of compassion and public service. He was strict but also charming and had a great sense of humor. He was a jolly character in the lives of his grandchildren – the kind of grandfather you pulled pranks on, like braiding his hair when he'd fall asleep. He'd always pretend he was surprised when he woke up.
My grandfather also began to sexually abuse me when I was nine years old. I never spoke of what he did to me as a child. In fact, the others never did either until I came forward with the truth three years ago.
Two decades after the abuse, I realized I was living with the effects of trauma, the harm he caused, and how it continued to destroy many aspects of my life. Yet, when I began to tell my story in 2014, my life changed for the better. I faced a fear so great that I empowered myself.
In the time that I began to expose the violence and sexual abuse in my family's past, I also experienced significant hearing loss. The hearing loss followed a series of traumatic events, and as a result, I entered a new form of isolation. I went inwards. I often found myself deep in thought while everything moved around me, examining my emotions or considering a deeper meaning to all aspects of my life. This loss was poetry as it created a space that brought depth, meaning, beauty.
I found beauty in myself and my life – a beauty that was silenced until my strength brought it forward. Another thing happened: my brain began to create sounds to compensate for the loss. To fight the silence.
Using my family's super 8 archive – silent home movies – and my background in audio documentary production and sound art, I will produce this work with an experimental approach that brings forth my voice and the voices of family members. This film will also incorporate sound design that mimic the sounds I constantly hear because of the hearing loss. Silent Beauty will become a rich tapestry of sounds and voices that explores what my family went through and who helped me find healing in this process.
Silent Beauty was selected to participate in the 2016 New Orleans Film Festival's Pitch Perfect, and awarded the 2017 Third Coast Residency at Ragdale. This film will be made available to audiences in English and Spanish.
CONTRIBUTE to our fundraising campaign HERE.
VISIT our website HERE.
The Team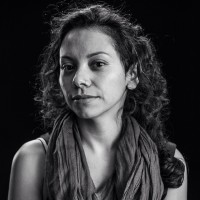 Jasmin Mara López – Writer/Director
Jasmin Mara Lopez is an award-winning journalist and producer based in New Orleans, Louisiana. Born in the U.S. with familial roots in México, her childhood was impacted by issues present on both sides of the U.S.-México border. This instilled in her a strong passion for immigrant rights, youth empowerment, and social change.
In 2007, Jasmin founded Project Luz – a project that empowers youth to share stories from their communities utilizing audio and photojournalism techniques. Jasmin recently received recognition for her documentary, "Deadly Divide: Migrant Death on the Border." She is a proud recipient of the Society of Professional Journalists Excellence in Journalism Award, Pacific Media Workers Guild Freelance Journalism Award, Association of Independents in Radio New Voices Scholarship, and the 2017 Third Coast Radio Residency at Ragdale.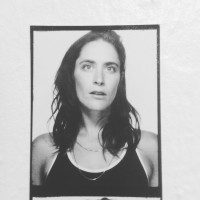 Annie Flanagan – Editor
Annie Flanagan is a photographer, filmmaker and educator based in New Orleans, LA. Their work explores topics of self worth, personal narrative, gender and friendship within the documentary framework. Annie is a recent master's candidate at S.I. Newhouse School of Public Communications. Their work has been featured in publications including Foam Magazine, VICE, The Players' Tribune, Al Jazeera, The New York Times, N.P.R. and on The Washington Post's InSight blog. Annie lives for long winding roads with a camera in hand and map laid out. Annie is a member of Boreal Collective. For Silent Beauty, Annie is contributing artistic direction and film editing.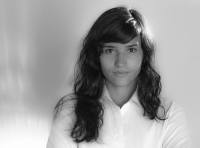 Rita Piffer – Script Support
Rita Piffer earned her Bachelor's Degree in Journalism at the Federal University of Santa Catarina (Brazil), and her MFA in Cinema at San Francisco State University (USA). Her short films have been screened internationally at independent film festivals and art galleries. She lived in San Francisco for almost nine years, where she created a series of visual projections for live band shows. Rita moved back to Brazil in 2013 and has been working with story and project development for a variety of independent films and TV series. She recently received a grant from the Brazilian Audiovisual Funds (FSA) to work on the development of her first feature fictional film, and another grant from RioFilme Institution for pursuing the research and development for a feature documentary. For Silent Beauty, Rita is offering support during the scriptwriting process.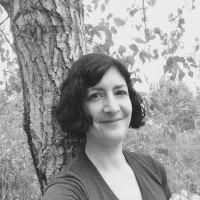 Katie McMurran – Sound Engineer
Katie McMurran is a sound engineer with over ten years experience recording and mixing for public radio and broadcast. She uses field recordings to create music and soundscapes for radio art pieces that explore internal dialogues and contemplations. For Silent Beauty, Katie brings her extensive experience and exquisite workmanship.
What We Need & What You Get
We want to raise $8,000 to pay for the following post-production costs:
Super 8 film processing and transfer.
Audio/video editing software and hard drives.
Studio recording fees for the film's narration.
Film festival submission fees and distribution.
An editing team. I chose my editors because they are loving, thoughtful people that know me and are important to my story. They are amazing at what they do and should be compensated for their time and contributions to this project!
If we do not reach our goal, any funds raised will go towards the processing and transfer of the existing super 8 film reels.
If we surpass our goal, funds will be used towards public engagement programming around the U.S. where the director will share this film and speak to youth about their experience.
The Impact
Your support is instrumental in bringing Silent Beauty to fruition, but you're also supporting  my mission to empower other survivors and the people they love. Here's how:
Film festivals. Silent Beauty will be submitted to several film festivals. Wherever Silent Beauty is screened is an opportunity to speak about my experience and encourage a dialogue around the issue of child sexual abuse, the effects of trauma, and the process of coming forward for survivors and their families.
Free community events. Through community partnerships, this film will be used to engage youth and communities that likely wouldn't have the resources to attend festival screenings.
My hope is that survivors will be encouraged to continue their journey towards healing, justice and awareness.
Ways You Can Help
CONTRIBUTE to our fundraising campaign HERE.
If you aren't able to contribute, you can still support Silent Beauty in other ways:
Share this campaign via your social media channels.
Email EVERYONE you know about it.
Follow our progress at #SilentBeautyFilm and share it!
If you have other ideas, questions, or would like to schedule a future screening for youth/communities, please email us at: silentbeautyfilm@gmail.com
Thank you!